"GOD WRITES STRAIGHT IN CROOKED LINES!"
I once read heard of this expression but to be honest, it never made a lot of sense to me at that time. I guess it was because at that time and probably from some time back my life had been moving so smoothly. This must have blocked my mind from conceptualizing the opposite. Right from the Seminary I had been in places where, despite the little ups and downs of life, the given organizational structure was always in place to ensure smooth running of the pastoral, spiritual, human, financial… matters. In others words God had been writing straight in my straight lines.
From the time we arrived here in Taiwan to begin the new infant mission, I immediately came to mind of one thing: that all was not well. I mean that it was not business as usual. Life had changed and now there was no structure in place as before, the structure was to made or invented by us. There was no pastoral, spiritual, financial… agenda in place; we were to come up with new and workable ones; ones that would suit the new and unexplored context. Well here the lines were not straight anymore, the were rather crooked! And how was God going to write on them? I assure you that I have seen God continuing to write straight even in these crooked lines.
I would have wished to share the same about all the other mentioned aspects; however, I want to limit my reflection only on pastoral aspect for now. This will be representative enough to illustrate how God has been good to us up to date.
Upon our arrival (12th September 2014), we noticed a peculiar pastoral situation. The Diocese conspicuously has eighty (80) established parishes with hardly one hundred and twenty (120) priests, out of whom about 30 are well above 70 years of age. The parishes have very smartly built structures but with very few Christians. The average number of Christians in every parish is 50 Taiwanese. On the other hand the number of immigrant workers is quite huge (especially from the Philippines and Vietnam); however, they are found only in few parishes. Celebrating Mass with them is just as lively as doing it in Africa or Latin America. But the point is that they are not in all parishes and secondly, we came to serve especially the local people. What a dilemma!
Immediately it became clear to us that we were in for a tough job; that of looking for the Taiwanese. And just how do we do that??? Well, God writes straight in crooked lines! We trust in His guidance.
Few months after we had arrived in Taiwan and already struggling with the language, some young people approached me with a proposal to join their group. This group is called NTHU (National Txing Hua University) International Volunteer Group. This forma part of the wider TAISA Organization started by a Spiritan Priest way back in 2007 for the purpose of helping and collaborating with some African Countries on charitable grounds as well as on cultural and social exchange programs. The idea sounded appealing to me and so I ended up in the group.
For several month we did work together forming and preparing a group of 13 University students who would then go to Kenya to carry out the exchange program in three schools. This included contributing 30 computers to every school, totaling to 90 computers. They would then assemble them and instruct the teachers on how to maintain them as well as giving a crush course to the student on programs, etc.
The whole of the month of July 2015 was therefore dedicated fully for the realization of this project. I did travel to Kenya with the 13 students (10 ladies and 3 gentlemen). The Lord was so good to us enabling us to realize all our plans successfully. On this point I can't forget the immeasurable support I received from the Regional Council and the entire Consolata Fraternity while we were in Kenya. The Taiwanese really remained impacted with the kindness of the Consolata Missionaries, making them really feel at home in the Country. Thank you my dear Consolata confreres in the Kenya-Uganda Region!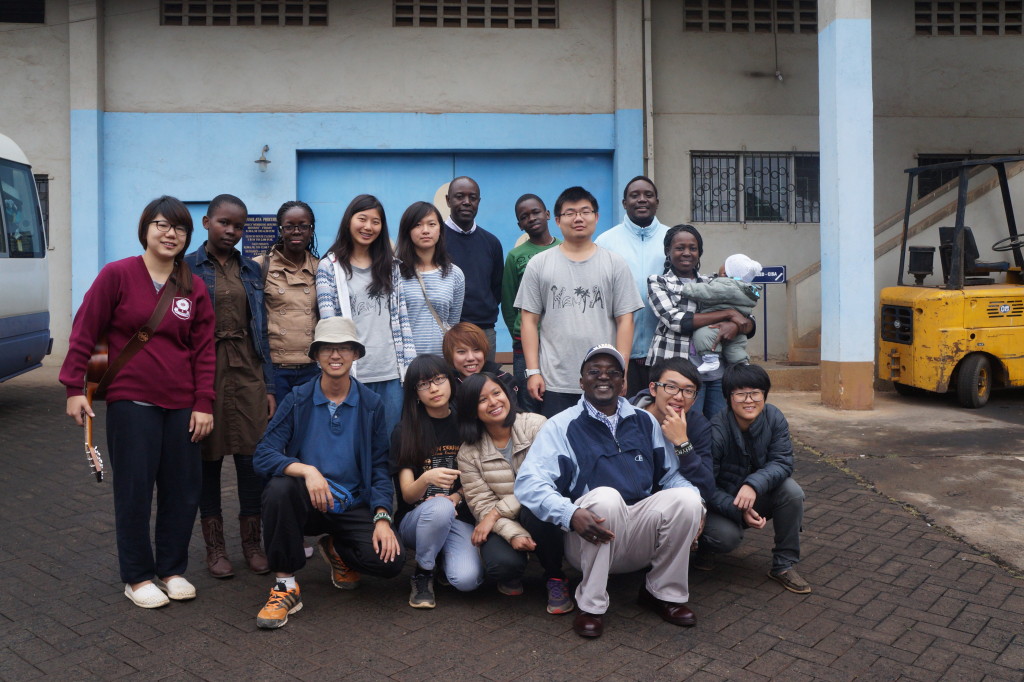 Besides the charitable aspect, I was immensely  impressed about the cultural and social exchange that left both sides so impacted. The Taiwanese who always have a rather distorted picture about Africa (poverty, insecurity, diseases, etc) remained so amazed at how many other beautiful things they know not about Africa. The same was with our African counterparts.
I want to thank the Lord for the opportunity He has availed to us to see this reality from a different perspective. What seemed impossible at the beginning is starting to become a reality; that is, penetrating the world of the Taiwanese. Indeed God writes straight in crooked lines!