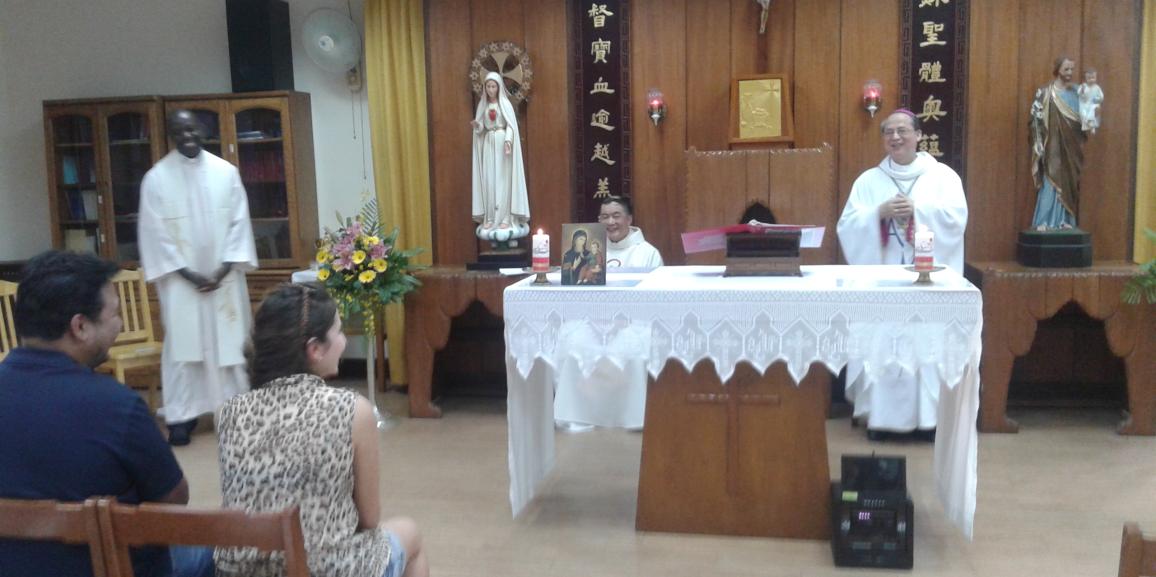 Mathews y yo hemos te
nido el privilegio de celebrar nuestra primera fiesta de la Consolata en Taiwán. Estamos muy contentos pues ha salido mucho mejor de lo que esperábamos, pues coincidía el día 20 con las fiestas tradicionales de la carrera de barcos-dragones y creíamos que no iban a participar más de 20 personas. Pues al final vinieron más de 50. La preparación ha sido un largo proceso: desde la traducción al mandarín de la misa de la Consolata, la elaboración de la estampa con la imagen de la Consolata con una oración en el reverso, invitaciones, preparación de la liturgia, la comida… Ya os podéis imaginar lo difícil que es preparar todo esto cuando el manejo de esta lengua es tan escaso. Pero así hemos tenido que ponernos en manos de la buena gente que nos rodea  que han colaborado tantísimo para que todo saliera bien. Desde nuestro obispo Lee y el obispo retirado Liou hasta todas la hermanas y fieles de la parroquia, sacerdotes amigos…
Celebramos la misa a las 4 de la tarde en la capilla de la catedral, justo al lado de donde vivimos. Presidida por nuestro Obispo, la homilía la predique yo en ingles pero simultáneamente fue traducida al mandarín. Después  de la misa, en el comedor de la residencia del obispo, continuamos la celebración con pizza, domplins taiwanés, tarta y paella española. Todo muy internacional y muy rico.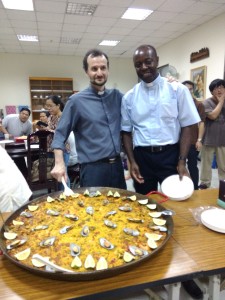 "Hace nueve meses que nosotros misioneros  los  de la Consolata llegamos a Taiwán. Estoy seguro que todos sentías un poco de curiosidad por saber quiénes eran estos nuevos misioneros. Los que estáis hoy con nosotros ya nos conocéis  un poco. Aun así estoy seguro que  todavía sentís curiosidad por saber quiénes son de estos los misioneros de la Consolata. Pues creo que  esta fiesta os puede ayudar a conocernos un poquito más.
Una de las cosas que tuvimos que hacer al inicio fue traducir el nombre de nuestro instituto en mandarín. No fue nada fácil. Pusimos  nuestro empeño en hacerlo bien pues el  nombre es muy importante porque indica quien eres, tu identidad.  Nuestro fundador eligió este nombre porque quería que fuéramos misioneros que como María llevan el consuelo de Dios a todos los pueblos. Este es el ideal al que estamos llamados a realizar. Pero bien sabemos que no siempre estamos a la altura de este ideal. Aun que si lo intentamos.
¿Qué consuelo? Consuelo que viene de Dios, del Dios de toda consolación.   Como dice la primera lectura."Father and God of all consolation who comforts us in all our sorrows so that we can offer others, in their sorrows, the consolation that we have received from God ourselves" Llama a Dios, Dios de toda consolación. Dios tiene muchas maneras de consolarnos. Para cada aflicción tiene una manera diferente de consolarnos. Hoy quiero compartir con ustedes sobre un tipo de consolación que Dios nos da. La que nos da a través de María.
Dios consuela a los que sufren. Y quien no tiene sufrimientos. Todos tenemos. Son parte de la vida. Y especialmente parte de nuestra vida de discípulos de Jesús. Me gustaría confesaros mis sufrimientos en este momento de mi vida. Muchas veces me siente muy cansado, frustrado y aburrido. Compartir los sufrimientos con alguien en quien confía ya es un gran consuelo. Alivia el dolor. Dios nos da personas a las que podemos abrir nuestro corazón con confianza. Esto es ya un gran consuelo.
Pero Dios nos da otro tipo de consuelo, nos da a María que nos da el consuelo de una madre. En en evangelio de Juan Jesús antes de morir  dijo a sus discípulo amado. "Aquí tienes a tu madre" (Juan 19,27).  ¿Cómo se recibir este consuelo? ¿Qué hay que hacer para recibir este consuelo?
Miremos el cuadro de la Consolata y allí descubriremos lo que tenemos que hacer. ¿Que vemos? Vemos a María con el niño Jesús al que sostiene con un brazo. Jesús  le coge un dedo. Imaginemos que somos nosotros a los que María coge en sus brazos en lugar de Jesús. Usemos la imaginación. Pero es una experiencia real. Real es Dios, real es María y real el consuelo que quiere darnos  a través de ella.
La primero; hacerse niño como el niño Jesús. Ya lo decía Jesús. Para entrar en el Reino hay que hacerse niño. Estamos  acostumbrados a darnos demasiada importancia, nos exigimos tanto, queremos ser perfectos, tan fuertes y autosuficientes,  hacer todo bien. Por eso  los errores del pasado nos pesan tanto y lo que nos queda por hacer también nos pesa.  Verse, aceptarse a sí mismo como un  niño es aceptarse pequeño, débil, limitado, frágil, necesitado (de ser querido).
Segundo; dejarse caer en los brazos de María. Dejar de auto sostenerme para dejar que sea ella quien sostenga mi vida. Soltar la autosuficiencia, dejar el peso de nuestras preocupaciones en Ella. Dejar caer en ella todo el peso de nuestra vida. Confiando que ella no nos va a dejar.
Tercero: dejarse querer por María. Así como Jesús agarra el dedo de María buscando calor, afecto, amor. Jesús se dejar querer por el amor de una Madre. Dejarse querer. Dejar que nos mire con amor.
A través de María Dios nos da una de las mejores consolaciones, la que recibe un bebe en brazos de su madre.
El Salmo 131 expresa claramente cuáles son estas actitudes y sentimientos. Cuando os sentáis mal por algo que os ha pasado, coged  la imagen de la Consolata  y repitiendo las palabras del salmo podréis experimentar este gran consuelo de Dios y un profundo descanso.
                                                                                Señor, mi corazón no es engreído,
                                                                               Ni mis ojos altaneros;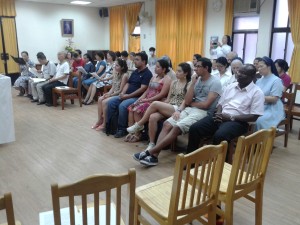 No persigo grandezas
Ni prodigios que me superan.
Calma y silencio mi anhelo
Como niño junto a su madre
Como un niño junto al Señor."